There's Texas pride in being an organ donor.
As proud Texans, we take care of ours. And right now, there are many more people waiting for a transplant in our state than there are organs available. Let's step up for our friends, family and neighbors in need by choosing to save lives.
Registering to be a donor is your decision to make.
When you register to be a donor, you're making a decision that's right for you – period. Registering to be a donor is a selfless act of giving and an opportunity for you to decide in advance that if there is a chance for you to save lives through donation, you wish to do so.
Once you've registered, it's important that you share your decision with your family so they know you'd like to be an organ donor. If you choose not to register as a donor, and you have the opportunity to donate at the time of your death, your loved ones will be asked to make that decision for you. Sharing your decision eliminates confusion, confirms your intentions and allows others to respect your wishes.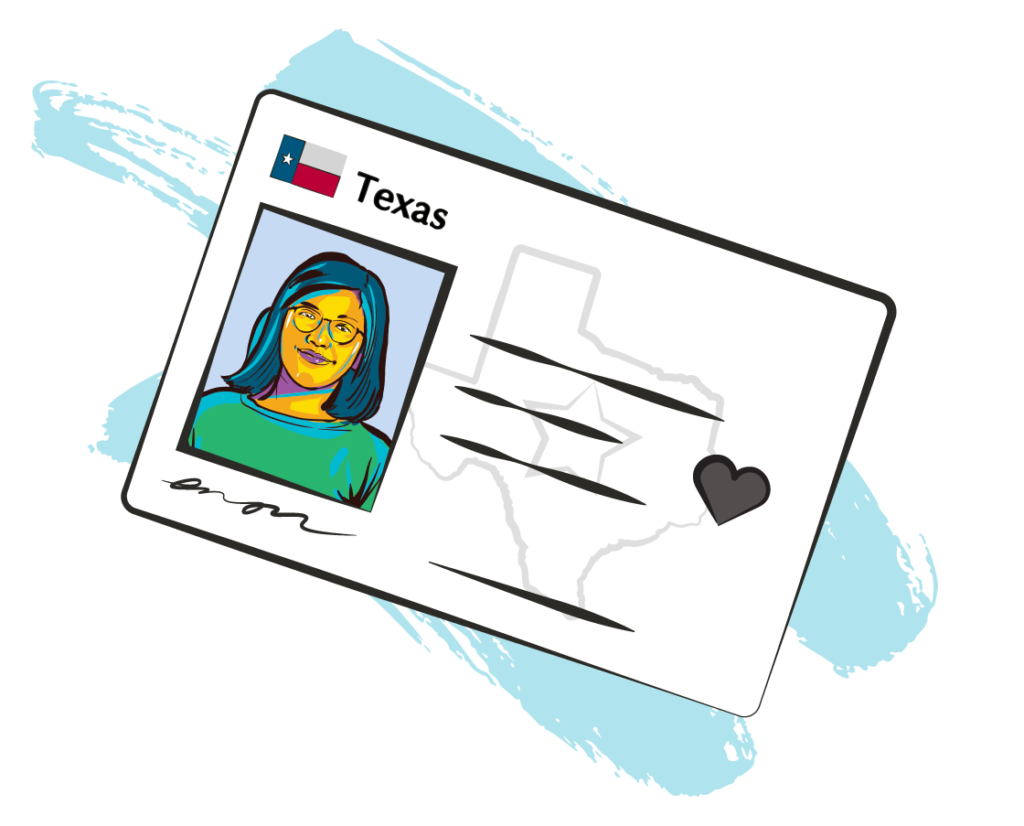 Fellow Texans are in need. Did you know?
8 lives
can be saved by a single organ donor
44% of Texans
haven't yet registered as a donor
10,000 Texans
are currently waiting for an organ transplant
"
"My daughter Molly's tissue donation helped 31 people, more than I would have thought. Even in the darkest part of my life, I've found donation to be healing."
Tracy Hammac, donor father
Got questions? We can help!
Checking the box to be an organ donor is a personal choice! If you haven't registered yet and have some questions, you're in the right place. Here are some of the top questions we get about tissue, eye and organ donation.
What does it mean to register as a donor?

Registering to be a donor means you are providing authorization for tissue, eye and organ donation after your death. If you are over the age of 18, it also means that no one can override your choice. If you choose to register, you'll be in good company. More than 13 million Texans have trusted Donate Life Texas with their donation decision. Looking for more information on Donate Life Texas? Find more information here.

Registering to be a donor does not include living organ donation, living bone marrow, blood or whole body donation. Find resources for those options here.
How does the process work?

Your decision to register as a donor and give your tissues, eyes and organs to others in need is at the very start of the donation process. This decision is either made by you during your lifetime or, if you haven't made a decision, your family will be asked to decide for you.

When a person's life ends, they are declared legally and medically dead. For organ donation to occur, the potential donor must be in a hospital and on a ventilator, which is a machine that keeps the potential donor's organs working after death. This ensures the organs are usable while authorization for donation is obtained, medical tests and examinations are performed to confirm what's healthy enough to be transplanted, the organs are matched with waiting recipients, and recovery can take place. Organ recovery happens in an operating room at the donor's hospital and then organs are transported to the recipient's transplant center where the recipients are already waiting and prepped for their lifesaving surgery.

Depending on the circumstances, people who die outside of a hospital setting may still be candidates for cornea and tissue donation, which are equally important. In these cases, donation logistics are coordinated by the funeral home or medical examiner's office and the appropriate tissue and eye banks.

Soon after donation, the donor's family is provided with information about their loved one's donation, and they may receive care and support from the donation agency in the months and years that follow if they choose. Donor families often say that their loved one's donation brings them comfort during a very difficult time.

Looking for more detailed information on the process? Find it here.
Will doctor's still try to save my life if I'm a registered donor?

Absolutely. Saving a person's life is always the top priority for doctors, nurses, paramedics and emergency personnel, period. When you need medical care, every effort is made to save your life. It's only after lifesaving efforts have been exhausted that donation becomes an option and your donor status is checked.

Additionally, access to the Donate Life Texas registry is strictly limited to the employees of tissue, eye and organ recovery organizations for the purpose of evaluating donation decisions. The professionals from the donation agency are completely separate from the medical professionals providing care in the hospital, and only become involved when death is imminent or declared.
Is my health a factor in my decision to register?

People of all ages and backgrounds can be donors, including those with common health conditions. At the time of donation, medical suitability is determined to ensure the safety of donated organs. So don't rule yourself out – if you support donation, register today and tell your loved ones.
Can I have an open casket funeral or viewing if I'm a donor?

Funeral arrangements of your choice are possible, including an open casket funeral or viewing. The donor's body is respected and carefully prepared so that donation itself does not interfere with funeral plans.
Can I trust Donate Life Texas with my information?

To date, more than 13 million Texans have trusted Donate Life Texas with their donor registration. As the only official tissue, eye and organ donor registry in the state, we're dedicated to helping Texans safely and securely document their donation decisions. Your information is completely private and confidential, and is used only after your death to confirm your donation decision.
Learn more about donation with our Frequently Asked Questions.
Meet these Texans whose lives have been impacted by donation.
Lemuel Bradshaw
Heart Recipient
"
My family and I have each other today because two people said yes to donation and gave me the gift of life.
Read story
Dot Delarosa
Lung Recipient
"
I am eternally grateful for my lifesaving gift. Every day, with every breath, I honor my organ donor.
Read story
Walter Williams
Donor Father
"
We want others to know that the decision to donate is life changing, both for the recipient families and the donor's family.
Read story
These stories of hope and healing connect us, and remind us that the gift of donation is a powerful, human gift from one person to another.
Say yes to saving lives.
Make a commitment today to register as an organ donor and share hope and life.